Birthday and Lost Tooth Celebrations
(Click on any image to see a larger version of that image.)
I have a gift bag full of items ready to help me celebrate each child's birthday. The bag contains the following items: birthday vest and hat, awards, poetry cube, copy of songs to sing, "Birthday Cake" songbook and cd. The vest, hat, songbook blacklines and CD are all available at www.katieandcompany.net.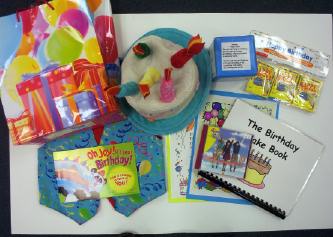 ---
I also have all of my students sign this birthday card. I used clipart from www.djinkers.com. Each birthday child also gets to take home the Birthday Bag and complete the Birthday Journal. See Take-Home Bags and Activities.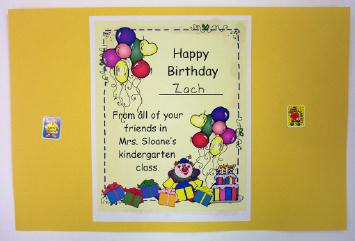 ---
We start the birthday celebration by singing the "Birthday Cake" song from Parachute Express Sunny Side Up CD. We use the book from Katie and Company to sing along.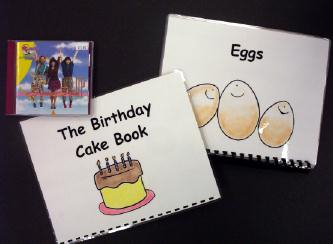 ---
After we sing the song, we take out the "birthday cake" that I made. This is a fake cake that you can make. I use the Royal Icing that you can get at any cake decorating store. There are also recipes available online. The inside is styrofoam. The cake dries very hard. (I am really not that talented at cake decorating so this year my friend, Cindy Lea Kressin, made my beautiful new cake. Thanks, Cindy!) The kids love it when I take it out. Make sure that you tell them it is not real. I light the candles and the child blows them out after we sing "Happy Birthday."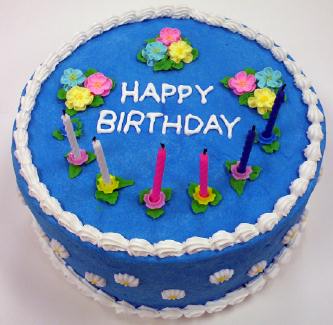 ---
The child then rolls the poetry cube. The cube is 2 bottoms of milk cartons covered with contact paper. I recite the rhyme that is turned up and then the class repeats it with me. I got this idea from Valerie Welk. The following poems were in her handout.

Birthday Child - Rose Fyleman
Everything's been different
All the day long.
Lovely things have happened,
Nothing has gone wrong.
Nobody has scolded me,
Everyone has smiled.
Isn't it delicious
To be a birthday child?

The Wish- Ann Friday
Each birthday wish
I've ever made
Really does come true,
Each year I wish
I'll grow some more
And every year
I do!!

Birthday Cake - Aileen Fisher
If little mice have birthdays
(and I suppose they do)

And have a family party
(and guests invited, too)

And have a cake with candles
(it would be rather small)

I bet a birthday CHEESE cake
would please them most of all!!

A Birthday - unknown
Today is (someone's) birthday
Let's make him/her a cake.
Mix and stir
Stir and mix
Then into the oven to bake.
Here's our cake so nice and round
We frost it (favorite color) and white,
We put (number) candles on it,
To make a birthday light.

Apples, peaches, pears and plums
Tell me when your birthday comes....
January, February, March, April (continue through the months)

Birthday- Aileen Fisher
The next best thing to Christmas,
The next best day to prize
Is a birthday when you're special
In everybody's eyes.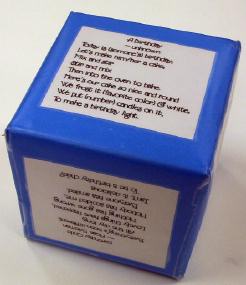 ---
I take a picture of the birthday child holding the cake and wearing the hat and vest. I send one copy home, put one in the child's memory book (see Memory Book section) and put another print in the class birthday book.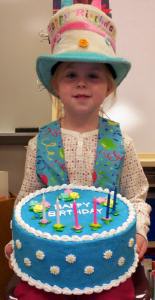 ---
The birthday book is created as the year goes on. It stays in the class book library. I have each child's birthday already written on each page (they go in chronological order) and I add the photos after we celebrate the child's birthday. We celebrate half birthdays. You can use any birthday notepad. I use Trend Sparkle Classic Accent T10101 and Name Tags T68102.