Book Treasures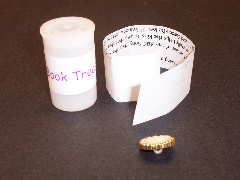 Book Treasures are small little items that correlate to specific childrens literature titles. Every Friday, I read a special piece of children's literature. Then I give the kids a small little item that relates to the book. They also get a slip of paper that contains the book title and author and some questions that parents can ask the child about the book. The item and paper get sent home in a film canister. Hopefully the canister will be returned to school the next week. The paper and item can be kept at home. This is a great activity for developing retelling skills. CLICK HERE for the introduction letter that goes home to parents.

CLICK HERE to view a sample PDF showing what the slips look like.

I have put together a packet of the 45 books that I use as Treasure Books. They are the books listed in this section. The packet is available to purchase for $10. See my order form for directions on how to order.

On the first day that we do a Treasure Book, all of the kids make a Treasure Chest to store their treasures. I purchased school boxes when they were on sale in the summer. All of the kids decorate the box with stickers and Sharpie markers. The kids take the boxes home and keep them at home all year long to fill with Book treasures.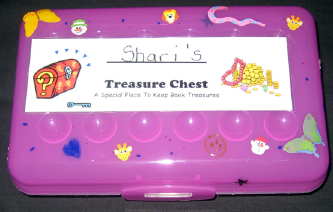 Click here for Treasure Chest Label PDF.
---
Here is a list of books that I use and suggested Treasure Items to send home. I tried to pick books that had a story line for easy retelling. Thanks to Heidi Frederick, a fellow kindergarten teacher, for sharing this idea and helping me compile this list. Most of the items are just party confetti from party stores or small foam shapes from Oriental Trading Company (OTC) .
---
The Blanket That had To Go by Nancy Evans Cooney - A scrap of blue fabric
---
In A Dark, Dark Wood by David A. Carter - Ghost sequin confetti

Snowmen at Night by Caralyn Buhner - Snowmen erasers (OTC)
---
Super Fly Guy by Tedd Arnold - plastic flies (OTC)
---
The Honeybee and the Robber by Eric Carle - bumblebee erasers (OTC)
---
Charlie the Caterpillar by Dom Deluise - butterfly erasers (OTC)
---
My Mama Says There Arent Any Zombies, Ghosts, Vampires... by Judith Viorst - foam monster shapes (OTC)
---
Way Down Deep in the Deep Blue Sea by Jan Peck - foam sea creatures (OTC)
---
There Was an Old Lady Who Swallowed a Shell - Lucille Colandro - shells

Seashells by the Seashore - Marianne Berkes
---
My Many Colored days - by Dr. Seuss - foam people shapes (OTC)
---
The Very Lazy ladybug - Isabel Finn and Jack Tickle - ladybug erasers or glass beads (OTC)
---
Going on a Leaf Hunt - Steve Metzger - foam leaves (OTC)

and
Red Leaf Yellow Leaf by Lois Elhert
---
Click Clack Moo: Cows That Type - Doreen Cronin - foam cows (OTC) next 6 in farm animal mix
---
The Horse in Harry's Room - Syd Hoff - foam horses (OTC)
---
Inside a Barn in the Country - Alyssa Satin Capucilli - foam barn (OTC)
---
Make Way for Ducklings - Robert McCloskey - foam duck (OTC)
---
Millions of Cats - Wanda Gag - foam cat (OTC)
---
Where Oh Where Has My Little Dog Gone - Trapani - foam dogs
---
The Great Fuzz Frenzy by Janet Stevens - bright green fuzz (yarn)
---
Something From Nothing by Phoebe Gilman - button
---
If You Give a Moose a Muffin - by Laura Numeroff - Mini Cupcake liners
---
Stephanie's Ponytail by Robert Munsch - ponytail holder
---
Dear Garbage Man by Gene Zion - garbage (candy wrapper)
---
Alphabet Adventure by Audrey and Don Wood - foam alphabet or alphabet beads
---
Boo To a Goose - Mem Fox - boo sequin party confetti
---
The Fierce Yellow Pumpkin - Margaret Wise Brown - jack - o - lantern sequin confetti
---
The Rainbow Fish - Marcus Pfister - sequin
---
Froggy Plays Soccer - Jonathan London - soccer ball erasers or foam shapes
---
One Hundred Hungry Ants - Elinor Pinczes - plastic ants
---
Miss Spiders Tea Party - David Kirk - plastic spiders
---
The Polar Express - Chris Van Allsburg - a jingle bell
---
Armadillo Rodeo - Jan Brett - party sequin cowboy boot
---
The Story of Ferdinand - party sequin or foam flower
---
Give the Dog a Bone - Steven Kellogg - a bone
---
Spots: Counting Creatures From Sky to Sea - Carolyn Lester - a circle punch black spot
---
Hello Sun - Hans Wilhelm - party sequin sun
---
The Tiny Seed - Eric Carle - a sunflower seed
---
Chicken Little (use any paperback version that is in print) - an acorn
---
The Little Mouse, The Red Ripe Strawberry and the Big Hungry Bear - Don and Audrey Wood - a strawberry
---
Caps For Sale - Esphyr Slobodkina - a hat (party confetti)
---
Corduroy - Don Freeman - a piece of corduroy fabric
---
The next 3 books were ideas sent to me from Joseph Haynes. These were great ideas to use with popular books.

The Kissing Hand by Audrey Penn - a small sizzix die of a paw with a heart sticker
Chick Chicka Boom Boom by Bill Martin Jr - OTC palm tree stirrers cut down with the first letter of each child's name
Pumpkin Circle: The Story of a Garden - Levenson and Thaler - pumpkin die cut and seed

---