Cooking Activities
Spider Snack - For our spider theme we make this delicious spider. Twist open an Oreo cookie and insert 8 licorice legs (a cut piece of pull and peel works best). Close the cookie and put 2 tiny dabs of frosting on top. Place red hots or mini-chocolate chips on the frosting for eyes. I have listed some of my favorite spider books below.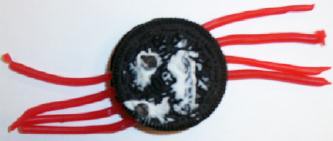 ---
Ladybugs - For our ladybug day we make these ladybugs. It is and apple half with 6 licorice legs coming out from under the apple. We used to put on the spots (raisins) with peanut butter, but because of allergies we switched to caramel.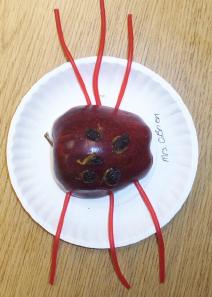 ---
Kangaroo Pocket Sandwiches - We make these pocket sandwiches on kangaroo day. Use a quarter or half of a pocket bread. You can have the kids fill the pocket with any ingredient. We switched from peanut butter to jelly and added bananas. Surprisingly, the kids LOVED it.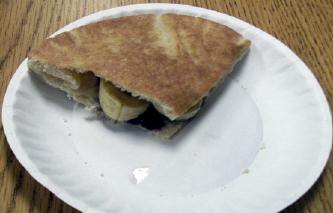 ---
Leprechaun Powder - Kids think you are absolute magic with this tasty snack. Lucky the Leprechaun left us a note saying he hoped we enjoyed his magic powder. In a Tupperwear container, I put 2 boxes of Pistachio pudding. We just add milk and magically it turns green. The kids loved the pudding, too.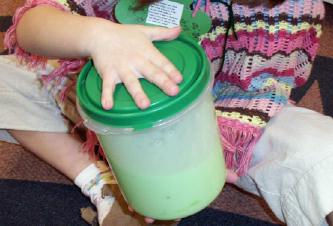 ---
Dominoes - We make these tasty dominoes on Domino and Dot Day. To make the snack, the child chooses a domino from a pile. The child then makes his/her frosted graham cracker look just like the domino he/she chose. You can use chocolate frosting with white chocolate chips or white frosting with regular chocolate chips. We use what we have in the cupboard. The line down the middle is Pull and Peel licorice.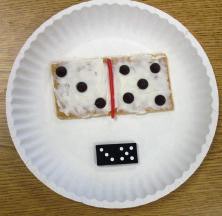 ---
Animal Parade - We made this fun snack on zoo day. The kids put cream cheese in a piece of celery. Then they stand 3 animal crackers in the cream cheese. I really was surprised at how well the kids liked this snack. Almost all of the kids ate the entire thing!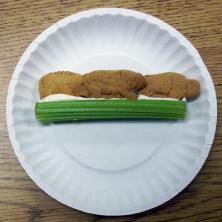 ---
Wishing Wand - This was a really fun and easy cooking project. The kids took a pretzel rod and spread cream cheese around one end of the pretzel. They then rolled the cream cheese in sprinkles. They had to make a wish before eating it. We read Alice the Fairy during snack time, but the kids also love The Three Wishes. The kids suggested using frosting next time, but they enjoyed the cream cheese anyways:)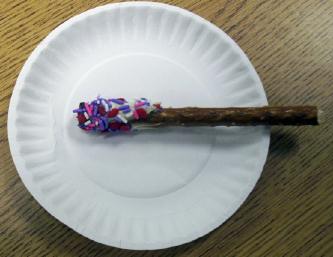 ---
Yummy Dirt - We make this tasty snack on Parent Involvement day. Each child takes 2 scoops of Mud (chocolate pudding) into a clear cup. They then crush 2 Oreo cookies in a Ziploc baggie and pour the 'pebbles' (the cookie crumbs) on top of the mud. The best part is adding some worms (Gummy Worms) to the dirt. There are a lot of great books out there about mud. I have listed a few of my favorites below.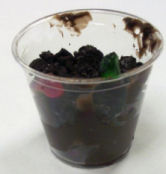 <
---
Yummy Yo-Yo - This is a very tasty treat for Y week. The kids put frosting in between 2 vanilla wafers. They then wrap and piece of licorice string (I use Pull and Peel). The kids love to play with their food before they eat it. I have listed some of my favorite books about "Yummy Yummy in my Tummy" below.
---
Six Mix - We make this tasty treat during X week. We choose six ingredients to put six of each in a cup. 3 of the ingredients end with X. We use Chex, Kix and Trix. The other 3 ingredients can me whatever you have on hand. Make sure you include some chocolate. This year we used m&m's, Teddy Grahams and chocolate chips. We have used butterscotch chips, pretzels, raisins and popcorn in the past. To focus on six we read Six Silly Foxes and Six Cheers for Ladybug which is the 6th book in the Number Tales Set from Scholastic. (I love this set, including the blacklines to go with it.) After we eat our tasty snack, we make a graph with X's showing what our favorite ingredient was.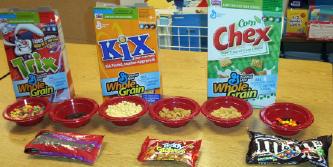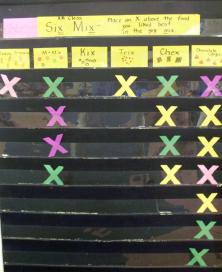 In 2007, I changed the way we do Six Mix. We now use six cereals that all end in the letter x. The kids have to take 6 of each and put them in a bowl. Then they have to sort the cereal and make sure they have six of each. Then they complete the attached sheet by spelling the word six on every line. They can write the numeral 36 for the total.

P.S. - You may notice red spots on the kid's faces. The kids have Chicken Pox drawn on their faces for X week also:)

Click Here for the Six Mix Counting Sheet.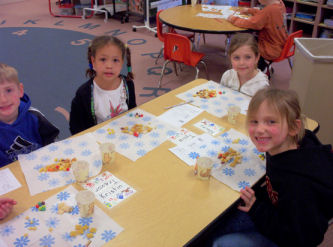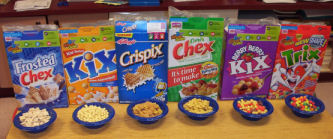 ---
Apple and Apricot Kabobs - This was another tasty snack for Aa week. Each child had to cut an apricot in fourths and an apple slice into thirds. The child then makes an ABAB pattern on a skewer to make the kabob. the kids really enjoyed this tasty, mathematical snack.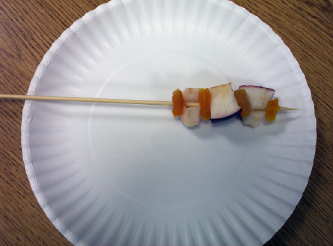 ---
Stoplight - We make this yummy snack at the beginning of the year. I have made it on days when we are talking about safety or on circle day. It is very simple to make. The kids frost a graham cracker and place 3 m&m's on it in the order of a traffic light. I read the book Red Light Green Light by Margaret Wise Brown and we play the same game in the gym.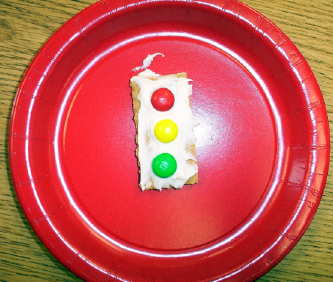 ---
Applesauce - During Aa Week we study apples all week long. We make applesauce at the end of this week. Each child brings in their own apple. See the graph we make using them in the Graph Section. I have a parent volunteer call each child back one at a time to wash his/her apple. They put the apple on the Apple Peeler/Corer machine. The child cranks it until the apple is peeled, cored and sliced. The slices are cut into smaller pieces and put into a frying pan. When all of the apples are done, I turn on the frying pan. You can start cooking earlier if you teach half-day kindergarten. We add water, cinnamon and sugar. We the apples start to soften, I mash them and stir them. When they are all soft, I serve it in styrofoam cups. Most of the kids really enjoy it.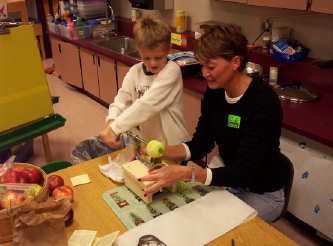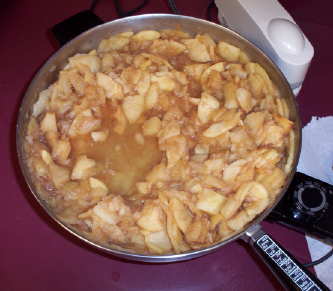 When cooking applesauce, we read some of these great books.