Get Ready! Big Books

In June 2010 my second CD was released. I was so happy with how much my kids loved the music. They asked to sing almost all of the songs every day. Like all music that I use in my classroom, I wanted to make the big books to go with the songs. Having the print connection for the kids is very important. It helps both me and the kids sing along.

When making the Big Books, I use 12" x 18' tagboard. I have found it reasonably priced at www.tdbestprice.com. I order the bright assorted tagboard. It makes making the book a lot easier. Be sure to bind the books at the bottom, for easier holding (I let my students hold them). I laminate my books using the heavier laminate from Teacher Supply stores. ABC Zone in Burnsville, MN and Rochester, MN is reasonable at $1.25 a foot. OfficeMax has become really expensive so shop around. But the 1.5mm works, too. Lakeshore Learning Store has laminating for just 29¢/ft.

To make making the books easier for you, I have included the PDF of the text that I use to make the Big Books. Some books may need a Bulletin Board set or a border. I will list what is needed. Occasionally, the item I use is discontinued. I always go online and check warehouses first. If you can't find exactly what I use, go to your local teacher supply store and browse until you find something that will work.

Get Ready! - This book is really easy to make. All you need is to print up the PDF and have 1 border. I used Carson-Dellosa's Race Cars & Checks Pop-Apart Border (CD-4008). I also put 1 Creative Teaching Press Stick Kid (CTP 4679) on the cover. You can use any kid cut out.

Click Here for Get Ready! PDF.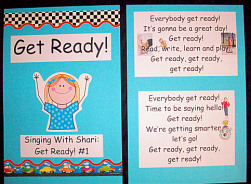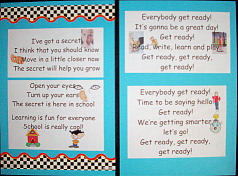 ---
Learning To Read - This is a song to teach reading strategies. I use Beanie Babies to go with all of the categories. Thank you to Brent Ramsey who let me change is Christian song "Learning to Lean" to "Learning to Read." To make this Big Book you can use any book or reading border. I had a really tough time deciding on 1 to use.The one I did end up with is from Trend (T92014). It is called "Bee a Reader." I also used 4 of the DJ Inkers Kids Colorful Cut-outs from Carson-Dellosa (DJ-620039).

Click Here for Learning to Read PDF.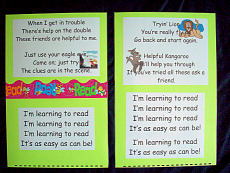 ---
Bingo Bango Bongo - This is a really fun skip counting song. You can make the book without purchasing anything extra or I found the Creative Teaching Press Coconut Palms Border (CTP 1931). I thought it added a little something extra. Just print up the words and the gorillas and you can make your book.

Click Here for Bingo Bango Bongo PDF.

Click Here for Gorilla Graphic.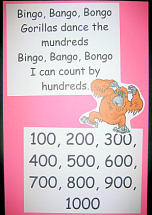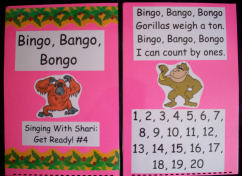 ---
Letter Pop - This is a fun new version of the 50s Song "Lollipop." If you want to add something extra you can use the Creative Teaching Press Dancing Dots Border (CTP 1182).

Click Here for Letter Pop PDF.

Click Here for Lollipop Graphics.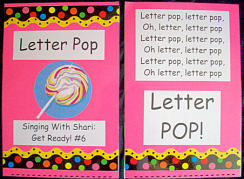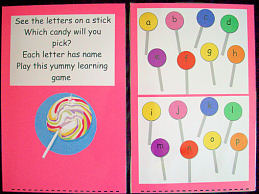 ---
We're Different We're All the Same - This book is easy to make just using the DJ Inkers Happy Faces Border for Carson-Dellosa (DJ-608032). I just love DJ Inkers. Just print up the PDF and use the border and you have your book.

Click here for We're Different PDF.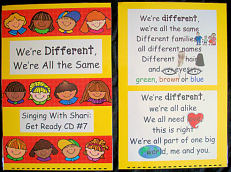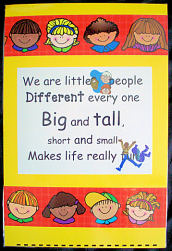 ---
Letter Family - I was so excited when I found this new cut out from Trend. It goes perfectly with this "Adam's Family" themed song. I thought they were so cute and my students couldn't stop giggling when they saw the new monsters on each page. The cut outs are Trend's Furry Friends (T-10975). I used sticker letters for the letters but you can write them or use die cuts.

Click Here for Letter Family PDF.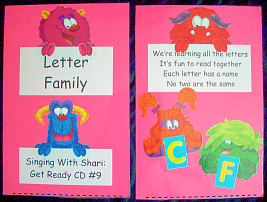 ---
Zero the Hero Rumba - We sing this song on every 10th day of school when Zero the Hero Bear comes to visit. The kids sing it and dance when they get to every 10th number. I used the Zero the Hero Graphic that my friend John Rasmussen drew for my calendar book page. I had my friend Steven Steeter add color so I could make this book. Thank you to both of them. You do not need any additional cutouts to make this book.

Click here for Zero the Hero Rumba PDF.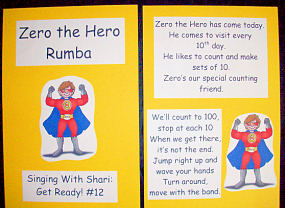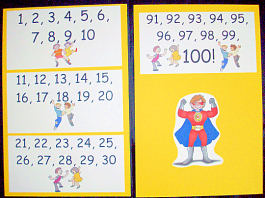 ---
Some Children Went to Sea - To make this book you can use any blue border. There are a lot of them out there. There is also a Waves of Blue Border form Creative Teaching Press (CTP 1936) which is pretty. I used a cut out border from a new company. It is called the Blue Waves Border from Hygloss Products, Inc. (Item #33602) I found mine a Lakeshore. You also need the DJ Inkers Kids Colorful Cut-outs from Carson-Dellosa (DJ-620039). I used the Trend Sticker Letters for the letters.

Click Here For Some Children Went to Sea PDF.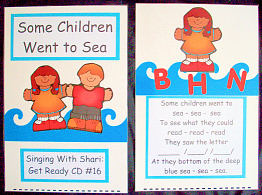 ---
Safe Zone - This is a fun song about how to handle a bully. Again you can use any kid of school or kid border for it. I did happen to find the "Work Zone" Terrific Trimmer from Trend (T92122). I thought it went well with the song. You also need a kid cut-out for the cover. I used the Creative Teaching Press Stick Kids (CTP 4679).

Click Here for Safe Zone PDF.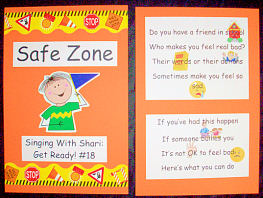 ---
If Your Name Has a letter - This is a fun song in which the kids have to stand up and do the action that goes with each letter. I made the Big Book to help them know what was coming up and what the action is. It is a really easy book to make because I put in all of the clip art. You only need one border for the cover. Any school border will do. I used Carson-Dellosa's ABCs and 123's Pop-its Border. (CD-10856).

Click Here for If Your Name Has PDF.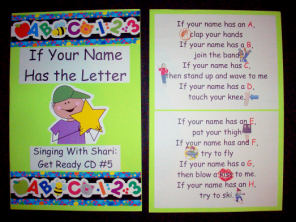 ---
School Time Rap - This is an echo-response Alphabet School Rap. Again it is easy to make because I used a lot of clipart in the lyrics. You just need one border for the cover and a school cutout for the middle of the cover.

Click Here For School Time Rap PDF.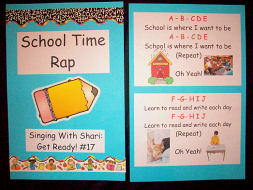 ---
Sing the Sounds Song - This song can be easily sung with any alphabet chart. This big book is another easy way to help kids recognize letters and learn the letter sounds.

Click Here For Sing the Sounds PDF.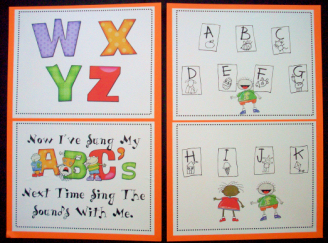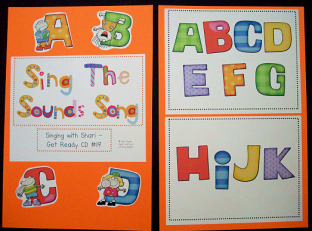 ---
Spelling Words - This book helps kids put a tune to spelling different length words. Everything you need to make the book is in the PDF.

Click Here For Spelling Words PDF.
---