High Frequency Words
(Click on any image to see a larger version of that image.)
There are lots of fun and easy activities for teaching high frequency words. I don't use a lot of worksheets to teach these words, but I have found 2 books that I use almost every page.
The first book Sight Word Poetry Pages by Rozanne Williams can be used a individual worksheets. I like to bind them all in a book and do them whole-group. I have found the poems to be a great way to teach reading strategies.
The other favorite book is 100 Sight Word Mini-Books: Instant Fill-in Mini-Books That Teach 100 Essential Sight Words by Cestnik and Cestnik. My students actually applaud and cheer when I put these pages out. They LOVE to do the Word Finds. They are also little books for the students to read, but there is no assembly on your part.
---
Who Has ... - This is a fun whole group activity to play with your class. Pass out one of these cards to each child. The child who has the * before the words starts the game. That child reads the card out loud. The child who has the word that the 1st child said reads his/her card out loud. Keep repeating until everyone reads their card. I have made 24 cards (I usually have 24 students). It ends with "stop."

Click here for "Star Word Who Has...?" cards.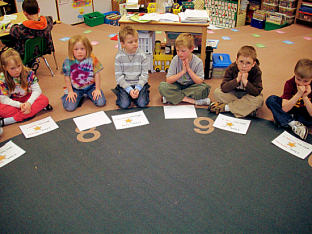 I Have Who Has 2 & 3 - My class loves to play this game so much and they have gotten so smart. I wanted to make other versions with more difficult high frequency words.

Click Here for I Have Who Has Words 2 PDF.

Click Here for I Have Who Has Words 3 PDF.
---
Word Tally - This blackline can be programmed for whatever high frequency words that you want you students to review. On the board write 5 words for the students to write on their sheet. The students should look through books and text. Every time the student finds a word, he/she marks a tally by that word.

Click here for the Word Tally PDF.
---
Star Word Ceiling - You want to have those "Star Words" everywhere in your classroom. Print the words up on some stars and put them on the ceiling in your classroom. The kids love to lay down and record the words they can read on the Star Word sheet. Lots of fun!
Click Here for Star Word Recording Sheet.