Nursery Rhyme Activities
(Click on any image to see a larger version of that image.)
I could not teach Nursery Rhymes without the wonderful music from Jack Hartmann. My kids absolutely love all of the songs on his Rhymin' to the Beat Vol. 1 and Rhymin' to the Beat Vol. 2. They really are worth the money.
The entire month of September is spent learning many things including Nursery Rhymes. We will end our study with a special program at the beginning of October.
The following photos are pictures of some new Nursery Rhyme art projects. They are from the Nursery Rhyme book from www.tlclessons.com. The projects are a great way to incorporate standards into your teaching. They incorporate literary response and analysis, listening and speaking strategies, speaking applications and identification of geometric features. I found that the projects are an excellent way to work on following directions as well as concepts such as shapes and colors. They are perfect for teaching spatial relationships.
These projects are from Nursery Rhymes. I have also done projects from More Nursery Rhymes. These are more difficult projects that are better for later on in the school year.
There are some great collections of Nursery Rhymes. I have listed some of my favorites below.
---
Little Miss Muffet - These Little Miss Muffets were adorable when completed. They all looked different from each other.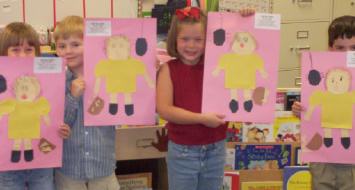 ---
Three Blind Mice - This project was a great way to teach the children how to make triangles from rectangles.

---
Twinkle Twinkle Little Star - This project was a little more challenging because of the window pane. They all turned out great!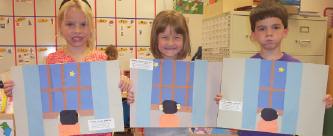 ---
Peter Peter Pumpkin Eater - We got some good practice at rounding off corners with this project.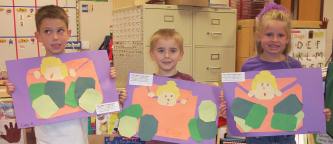 ---
Rub-a-Dub-Dub - This was the most difficult project. It was the first time the children had to tear paper. Almost all of the children were extremely frustrated while tearing the first white piece. Then they did the blue piece and almost every child could do it easily and successfully. It was a wonderful life lesson about trying things that are difficult and they become easier.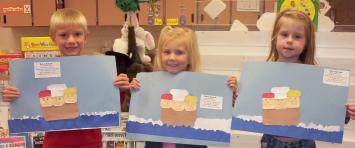 ---
Hickety Pickety - Doing this project really helped the kids to memorize this fun rhyme. You can see how proud the kids are of their work.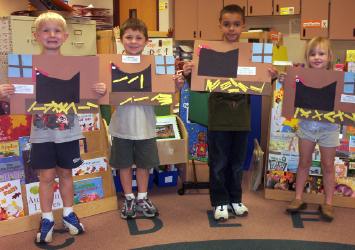 ---
London Bridge - The kids were so excited to do this project because they got to tear paper again. They did a great job!!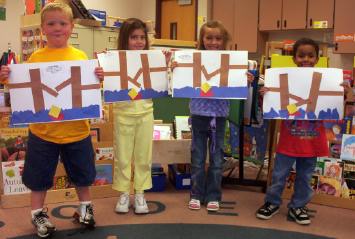 ---
Nursery Rhyme Program - These are some photos from our wonderful Nursery Rhymes program on October 7, 2005. All of the kids had to say an assigned Nursery Rhyme all by themselves. The first photo is Hallie doing "Peas Porridge Hot." Then the entire class sang about 8 songs. That was a lot, but this class loves to sing. We sang our favorite Jack Hartmann Nursery Rhyme songs, did Greg and Steve's "Brown Bear, Brown Bear" and some Dr. Jean hits. It was a lot of fun and the kids were amazing!!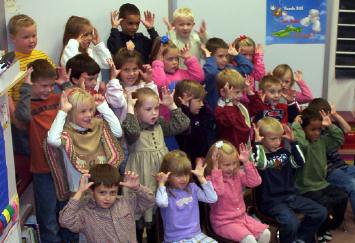 ---
Jack Be Nimble Class Book - We make this class book in the spring. it is a phonemic substitution book. Each child has to write their name starting with the letter J three times. They draw themselves jumping over a candlestick. You can use a photo for the head.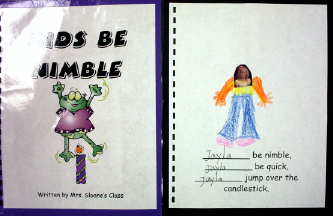 ---
Jack and Jill Class Book - We make this class book in the spring. I have 2 sets of photos. each child gets his/her own photo and then they draw another photo out of the other set. That is the person they are going to have on their page. The kids have to write their own name and their friend's name.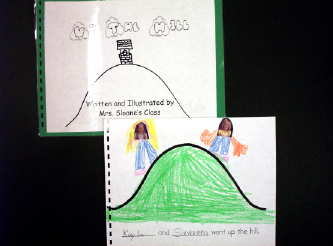 ---
Humpty Dumpty - We did the www.tlclessons.com art project for Humpty Dumpty. I think this was one of the easier ones to make and the kids did really well with it. I thought the bow tie was going to be too hard, but it wasn't.