Weekly Poetry Folder
I have been doing a weekly poetry folder in my classroom for over 15 years. It has always been a wonderful tool for early literacy, especially for teaching phonemic awareness. In recent years, it has become even more beneficial because we focus on high frequency words, word count, letter count and many other skills.

Every week I introduce 1 or 2 new poems to my class. They are up in the pocket chart all week long. We read them together throughout the week. After introducing the poems, the kids come up and point to Star Words (high frequency words) in the poem. I highlight them with Pocket Chart Highlighters from Lakeshore.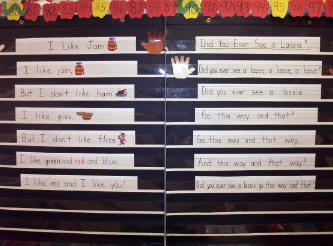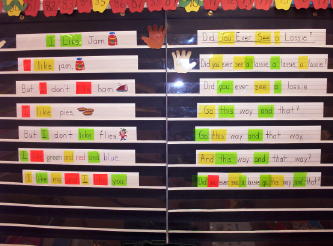 ---
On Fridays, the students get the blacklines of the poems that are in the pocket chart. They are 3-holed punched, ready to go in their own 3-ringed binder. The poems are typed up using anywhere from a 24 to 36 font. I use the Comic Sans font. There is room at the bottom for the kids to illustrate the poems.

We go through the poems together. We count words in lines and the number of lines in the poem. We circle certain letters, look for words that start with certain letters and find rhyming words. We always highlight the Star Words and underline color words with the matching color. In the beginning of the year I usually model using the overhead projector. After we are done focussing on skills, the kids all illustrate their own poem sheet.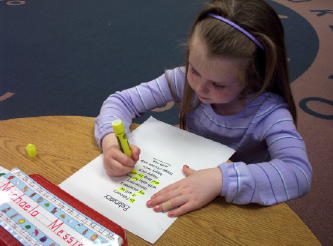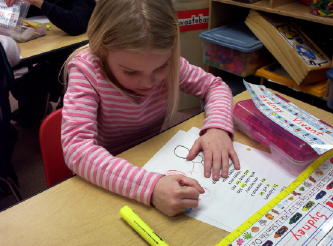 ---
After highlighting and illustrating the poems, the students bring me their poems and their poetry folder. I place the poems in the folders for the students. I like them to stay in order. If the child has not returned the poetry folder to school that week, I keep the poems at school and place them in the folder when it is returned. The folders are brought home every Friday and returned to school on Mondays. There is a direction sheet in the front of the binder as well as a sheet for the parent(s) to sign when the child has read to them.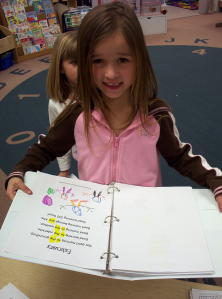 ---
You do not have to use special poems for your weekly poetry folder. Most of my poems are traditional Nursery Rhymes and songs. A wonderful new resource was recently published. Sing a Song of Poetry, K: A Teaching Resource for Phonemic Awareness, Phonics and Fluency by Fountas and Pinnell. This book contains almost 250 poems that are ready to use in your poetry folder. If I had this book when I started poetry folders, I would have used most of them. It is a fantastic resource. I use it a lot even though I already had a lot of poems in my collection.

Below I have made a list of poems that I include in my poetry folder. For copyright reasons, I am not able to type up the poems for you. I will list the poems that I do in the beginning of the year and then list the rest of the poems according to the letter of the Week themes that I use.
---

September -
        The Gingerbread Man Chant
        Mary Wore Her Red Dress
        The Shape Family
        Colors (see Little Book section)
        ABC Song
        Humpty Dumpty
        Hickory Dickory Dock

Aa -    Apples
        A-P-P-L-E

Bb -    Bugs (Margaret Wise Brown)
        Baa Baa Black Sheep
        The Bear Went Over the Mountain (or Mm)

Cc -    Who Stole the Cookies From the Cookie Jar?
        Chicken Count (Mary Jo Huff)

Dd -    B-I-N-G-O (dog)
        Dickory, Dickory, Dare!
        Diddle, Diddle, Dumpling
        Doggie Doggie

Ee -    The Elephant Goes Like This
        Way Down South 
        Two, Four, Six, Eight (Even Numbers)

Ff -    The Finger Song
        Fuzzy Wuzzy

Gg -    Gumball (Dr Jean- Sing to Learn)
        Bubble Gum (Dr Jean Sings Silly Song)

Hh -    Clap Your Hands
        A-Hunting We Will Go

Ii -    I Can Do It By Myself
        Ice Cream

Jj -    Jack and Jill
        Fee, Fi, Fo, Fum

Kk -    Old King Cole

Ll -    Did You Ever See a Lassie?
        I Like Jam

Mm -    Me
        Creeping (mouse)
        Five Little Monkeys

Nn -    Goodnight, Sleep Tight
        One For the Money (numbers)

Oo -    Old MacDonald Had a Farm

Pp -    Make a Pancake
        This Little Piggy
        A Pizza Hut
        Peas Porridge Hot
        My Pet- McCord
        P-I-Z-Z-A

Qq -    Apples, Peaches, Pears and Plums (Itís a Question)
        Five Little Ducks (quack)

Rr -    One Two Buckle My Shoe (rhyme)
        Rain Rain Go Away
        Rain on the Rooftops
        Roses Are Red

Ss -    Are You Sleeping?
        Itsy Bitsy Spider
        I Like Stars- Johnson

Tt -    Teddy Bear

Uu -    Star Light, Star Bright- (universe)
        Our Flag
        Red, White and Blue
        Lazy Mary (up)

Vv -    Five Fat Peas

Ww -    This Is the Way We Wash Our Face
        Willaby, Wallaby, Woo
        Go In and Out the Window
        Wee Willie Winkie

Xx -    Extra Special Me Poems

Yy -    Daffodil (yellow)
        Yo-Yos

Zz -    Zebra

Fall -  Scarecrow
        Stop, Look and Listen
        Stop and Go
        Gobble, Gobble (turkey)

Winter  Love Somebody
        I Love You Little
        It Looked like (snow)
        Snowman

Spring - April Showers
        The Beach
        Colors
        I Love Colors
        Lunch Box
        Leprechaun
        
Every month I also do the month poem from Chicken Soup With Rice by Maurice Sendak

and the Good Morning Song from www.kinderkorner.com.

I choose 2 poems for each week. Nursery rhymes, seasonal poems and other rhymes can be used at any time. Any poems not used during the year are added to the poetry folder during the last week of school for some summertime reading.