Sleepytime and Walking Word Walls
(Click on any image to see a larger version of that image.)
For Christmas 2007, I gave my students these Sleepytime Word Wall pillowcases. I saw the idea after attending a fantastic writing workshop by Julie Lay. I loved it so much I had to find a way to give them to my students. Kim and Lisa from INSIGNIA agreed to help me out. I had told my parents about the pillowcases at fall conferences so they knew what to do with them. They are to help the kids practice their High Frequency Words (Star Words) right before bedtime.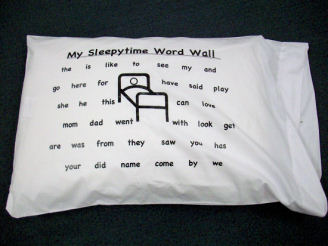 They have been very successful. When assessing Jack D. for 2nd quarter report cards he was so happy looking at the word list. "These words are on my pillowcase!" Needless to say he did very well. My students are talking about the pillowcases all the time. My teaching partners did not give the pillowcases as gifts, but wanted to offer them to their students. The used the following forms to send home with their students. The response was very high. We all have a pillowcase in our classroom that we review at school, also. The lovely ladies that made our pillowcases were so excited about the product (Kim has a kindergartner of her own who needed his own pillowcase) that they wanted to make them available to teachers everywhere. Ordering information is as follows.
Click here for the Sleepy Time Word Wall PDF.
Sleepytime Pillowcase Ordering Information:
See provided order form options:
Option A - Order form with checks payable to INSIGNIA.
Or
Option B Order form with checks payable blank for you to fill in your organization. Then one check would be made out to INSIGNIA. We will send the pillowcases along with an invoice.
Note: There are 2 order forms per page just cut sheets in half for distribution.
Pillowcase price = $6.50 each (INCLUDES shipping)
Minimum order: 20 pillowcases
Please send completed order forms to:
INSIGNIA
21956 Century Ct.
Prior Lake, MN 55372
Questions Email us at INSIGNIA@Integra.net
Allow 2 3 weeks for delivery.
All orders are a final sale. No returns.
THANK YOU!
Kim Bloomquist & Lisa San Agustin
INSIGNIA, Inc.
Click here for Order Form A PDF.
Click here for Order Form B PDF.
Sleepytime Find the Letter Pillowcase - In Spring 2010, my friends at Insignia developed this wonderful new study pillowcase. The Word Wall pillowcases were so popular they designed pillowcases for Pre-K and Preschoolers to learn the alphabet. Most teachers send home the order form with their students and then they get the minimum order of 15 pillowcases. They also make great great Christmas gifts (if you can afford to give them to everyone.)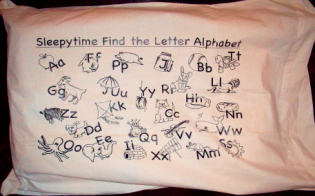 I do not do anything with the ordering of either type of pillowcase. Please direct all questions to insigniasportswear@gmail.com
Click here for order form PDF.